Freeze-Thaw/Evaporation (FTE®) allows for both treatment (through the Freeze-Thaw Process) and disposal (by enhanced evaporation) of produced water and frac flowback. When the ambient temperature drops below 32oF, produced water is pumped from a holding pond and sprayed onto a freezing pad. As the spray freezes, an ice pile forms. Brine, with elevated constituent concentrations, drains naturally from the ice piles. The high-salinity brine, identified by its high electrical conductivity, is separated and pumped to a pond where it is later evaporated or stored for beneficial use. When the ice on the freezing pond melts, the purified water is pumped from the freezing pond and discharged or stored for later beneficial use. During the warmer months, the FTE® facility operates as a conventional evaporation facility. No new wastes are generated by the FTE® Process and no chemical addition is required. Coupling the natural processes of freezing and evaporation makes the FTE® Process more economic and effective for the treatment and disposal of produced water and allows for year-round operation of the FTE® facility.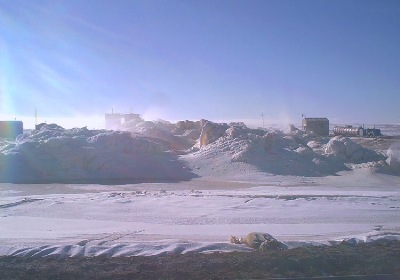 Winter Operations at the Wamsutter FTE® Facility (Photo Courtesy of Crystal Solutions, LLC)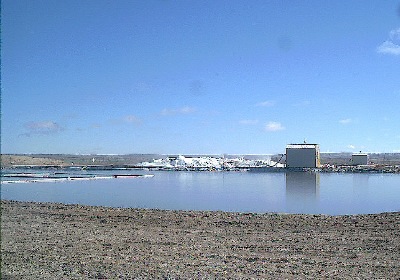 The Spring Melt at the Wamsutter FTE® Facility (Photo Courtesy of Crystal Solutions, LLC)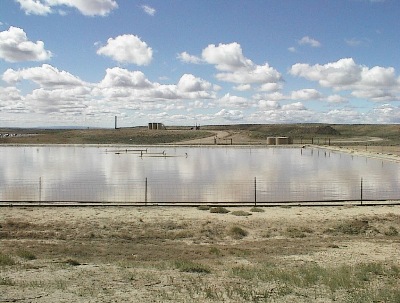 An Evaporation Pond at the Jonah FTE® Water Treatment Facility (Photo Courtesy of BC Technologies, Ltd.)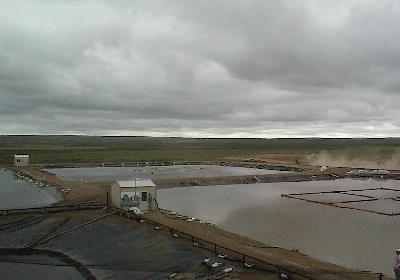 Summer and Fall Operations at the Wamsutter FTE® Facility (Photo Courtesy of Crystal Solutions, LLC)


The development of the FTE® Process for oil and gas produced waters began in 1992 with laboratory-, bench-, and field-scale freeze crystallization research funded by the Gas Research Institute, U.S. Department of Energy, Amoco Production Company, McMurry Oil Company, and the University of North Dakota Energy and Environmental Research Center (EERC). Laboratory and bench-scale tests were conducted by John Boysen and BC Technologies, Ltd. in Laramie, WY.

Between 1995 and 2000, John Boysen of BC Technologies, Ltd. in collaboration with the EERC, conducted two field demonstrations to confirm FTE's capability to simultaneously remove salts, organics and heavy metals from wastewaters generated in natural gas production fields in New Mexico and Wyoming. The FTE® Process was first field tested at Amoco Production Company's Cahn-Schneider Evaporation Facility in the San Juan Basin near Farmington, NM from 1995 - 1997. Results from the demonstration were well received and confirmed both the economic viability of the process, and its potential to produce a usable, high-quality treated water.

The FTE® Process was also demonstrated at McMurry Oil Company's conventional evaporation facility in the Jonah Field of southwestern Wyoming from 1997 - 2000. Modifications to the existing facility were made to include freezing pads and an enhanced evaporation spray system. Successful results were achieved and a new business, Crystal Solutions, LLC, was formed by BC Technologies, Ltd. and the Gas Research Institute to commercialize the technology through the construction and operation of the Wamsutter FTE® Water Treatment and Disposal Facility -- which was located in the Wamsutter Natural Gas Field, about 12 miles south of Wamsutter, WY.

In 1999, the Wamsutter FTE® Water Treatment and Disposal Facility began operations. That facility has been in continuous operation since it opened its doors. The facility was purchased from Crystal Solutions in 2004, although Crystal Solutions was retained to manage the operations.

The Polar Bear Water Treatment FTE® Facility will utilize freeze-thaw/Evaporation to treat produced water and frac flow back to create a new source of re-usable water and to dispose oilfield wastewater.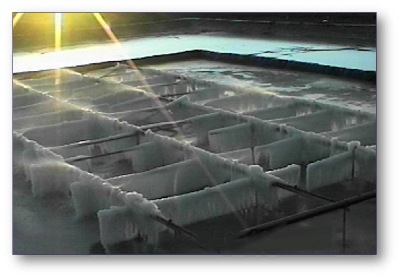 The Spray Grid System Used to Support Freezing Operations at the First FTE® Field Demonstration near Farmington, NM. (Photo Courtesy of BC Technologies, Ltd.)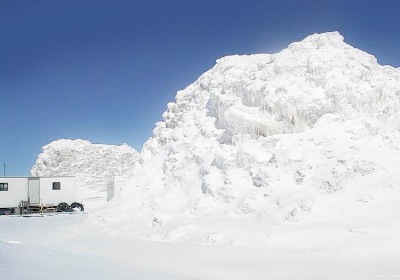 The Ice Pile Formed at the Jonah FTE® Facility during the Field Demonstration at McMurry Oil Company's Evaporation Facility. (Photo Courtesy of Crystal Solutions, LLC)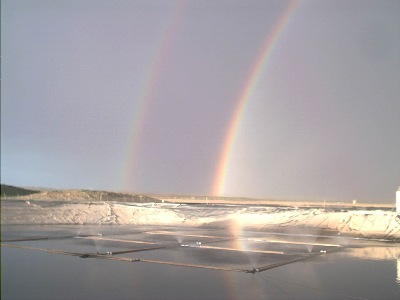 A Perfect Moment for Evaporation at the Wamsutter FTE® Facility (Photo Courtesy of Crystal Solutions, LLC)